Obituaries » ANDREW LEE GAUSE, SR.

Print
August 15, 1952 - August 30, 2019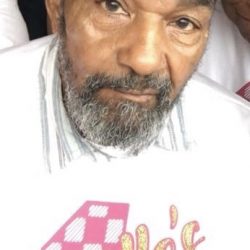 Burial Date: September 7, 2019
Visitation will be Friday, September 6, 2019 at Mount Olive Missionary Baptist Church, Lexa Arkansas from 5:00 p.m. to 7:00 p.m. Funeral service will be held Saturday, September 7, 2019 at 12:00 noon at Spring Lake Missionary Baptist Church, Lexa Arkansas. Interment will follow immediately at Spring Lake Cemetery, Lexa Arkansas.
Obituary Viewed 1386 times
Andrew Lee Gause, Sr. was born on August 15, 1952 to Roberta Gause and the late Tommie Gause, Sr. in Helena, Arkansas.
He confessed hope in Christ at an early age at Mt. Olive M.B. Church. He remained a faithful member and sang in the Male Chorus until he relocated.
Andrew attended Central High School in the Helena-West Helena School District.
Andrew was devoted to the Southland Community and was always willing to lend a helping hand thanks to his handyman skills. Andrew was a member of the Spring Lake Cemetery Club.
Andrew was employed by Kirby Blair Farms where he was the lead farmer for many years. He later took an interest in cement and construction work and was employed by Glenn Paige Construction as head site coordinator and James Gray Construction. Andrew became self-employed running his own small business until his health began to fail.
Andrew was preceded in death by his daughter, Stephaine Gause, grandmother, Rachel Pruitt, three brothers, Eugene Gause, Sr., Eddie Bo Martin and Arthur Adams, Sr.
Andrew leaves to cherish his loving memories: his loving wife of 40 plus years, Gloria Jean Gause of Lexa, AR; his children: Timothy (Shenola) Gause, Conway, AR,
Andrew Jr (Brandi) Gause, Mabelvale, AR and Jamal Gause, Little Rock, AR; his mother: Roberta Gause; his siblings: Carrie Martin, Rosie M. Winston, Charles (Tracy) Martin, Cleveland (Carla) Martin, Tommie Sr (Juanita) Gause, Leon (Pauline) Mayweather, John Sr (Kimberly) Gause, and Willie (Candace) Bell; Grandchildren: Jazmyne Jacobs, Timon Gause, Nathalie Jacobs, Taajih Pickett Tylon Gause, Shayne Gause, Kamille Gause and great granddaughter Aaliyah and a host of nephews, nieces, cousins and friends.