Obituaries » JOYCE LEE WASHINGTON

Print
March 10, 1961 - August 26, 2019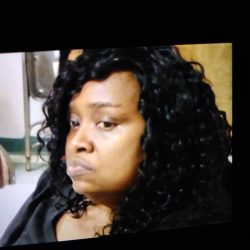 Burial Date: September 7, 2019
Visitation will be held Friday, September 6, 2019 at First Power House Church of God in Christ, 310 Renee Street, West Helena Arkansas from 4:00 p.m. to 6:00 p.m. Funeral service will be held Saturday, September 7, 2019 at Greater Power House Church of God in Christ, 531 Ladino Street, West Helena Arkansas at 11:00 a.m. Interment will follow immediately at Jackson Memorial Cemetery, Lexa Arkansas.
Obituary Viewed 1183 times
Joyce Lee Washington was born on March 10, 1961 to the late Clinton and Earlie Mae Washington in Rondo, AR.
She confessed a hope in Christ at early age at Friendship Baptist Church. For over 20 years, Joyce was a faithful member of First Power House COGIC under the spiritual guidance and leadership of special friends, Pastor Kim Smith and wife Barbara Smith. During her spiritual journey, she served as the Mother of the Church and great caretaker. Joyce enjoyed cooking for her family and friends but she absolutely loved traveling and fellowshipping with her brothers and sisters in Christ of the First Power House COGIC.
In 1980, Joyce graduated from Barton High School. She was a cook at Kroger's for many years, thereafter; as a second career she was Personal Caregiver until her earthly departure on August 26, 2019.
Joyce was preceded in death by her dear & loving parents; paternal grandparents, Chester & Sara Washington; maternal grandparents, Amos & Ora Lee Jones; one sister, Patricia Washington & nephew, Bradley Washington.
Joyce leaves to cherish her loving memory, four beautiful children, Deon, Michael and Michelle Washington of Helena, AR; Latonya Stewart (Michael) of Jonesboro, AR. One brother, Larry Duff of Salt Lake City, UT. Five sisters; Barbara Washington and Pearlie Reese of West Helena, AR; Rosemary (James) Cosey and Eunice Washington of Little Rock, AR; Jacqueline (Tommie) Banks of Rochester, NY. Four grandchildren, Samarjay O'neal, Kameedra Steele, Micah Stewart & Ashlee Harris, 1 great grandchild, Kaleb Stewart. Special friends, Vergella Gist-Branscomb and Lakeisha Tate, as well as a host of aunts, uncles, nieces, nephews, cousins and friends.