Obituaries » EARNEST RAMSEY, JR.

Print
August 6, 1938 - May 10, 2019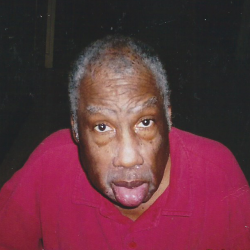 Burial Date: May 18, 2019
Visitation will be held Friday, May 17, 2019 at Jackson – Highley Funeral Home Chapel, West Helena Arkansas from 4:00 p.m. to 6:00 p.m. Funeral service will be held Saturday, May 18, 2019 at Miracle Temple Apostolic Church, West Helena Arkansas at 12:00 noon. Interment will follow immediately at Jackson Memorial Cemetery, Lexa AR.
Obituary Viewed 522 times
Earnest Ramsey, Jr., affectionately known as "Promise" was born to the late Earnest Ramsey, Sr. raised by Russell and Pearlie Smith on August 9, 1938 in Helena, Arkansas.
Although faced with many life challenges, Promise lived a full life. He enjoyed watching television as well as people and things going on around him. He was able to capture his visions and express them in his own way which brought joy to everyone who spent time with him.
Earnest leaves to cherish his memory three brothers; Bishop James (Carolyn) Hicks of West Helena AR,
Freddie Lee Hicks of Pahokee FL, Russell (Wanda) Smith of North Little Rock AR, four sisters; Ever Jean Washington of Helena AR, Nancy Martin of Douglasville GA, Pearlie Hoskins of St. Louis MO, Alice Mae (Charlie) Gather of St. Louis MO, and host of nephews, nieces, cousins and friends.