Obituaries » MARGARET ALICE SIMS RUTLEDGE

Print
March 2, 1934 - September 1, 2018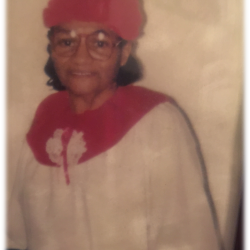 Burial Date: September 9, 2018
Visitation will be held Sunday, September 9, 2018 at Jackson - Highley Funeral Home Chapel, West Helena, Arkansas from 1:00 - 2:00 p.m. Funeral service will follow immediately at 2:00 p.m. at Jackson - Highley Funeral Home Chapel, West Helena Arkansas. Interment will be held at Mt. Shelby Cemetery, Marvell Arkansas.
Obituary Viewed 912 times
Margaret Alice Sims Rutledge was born in Marvell, AR March 2, 1934 to the parents of Sammie and Mary L. Sims. Over the years she was known to her family simply as Gran. At the age of 16 she married her high school sweetheart Floydzell Key, Sr. conceiving Floydzell Key, Jr., Mary Joyce Key, and Calvin Emmanuel Key. Two years later she married the love of her life Jesse Rutledge and he raised her three children, and later had Connie Sue Rutledge.
Margaret Rutledge was Saved, Sanctified, and Holy Ghost filled at the age of twenty-one.
She was ordained as Evangelist Rutledge over 60 years ago and-worked faithfully with several ministries including many years at New St. Matthew COGIC under the leadership of Elder Henry Molden, Love Temple under the leadership of Elder E. Wade and St. Paul COGIC under the leadership of Pastor A.W. Devine. Evangelist Rutledge later became Pastor Rutledge as she Co Pastored with her husband the late Pastor Jesse Rutledge, Jr. at St. Mark Whole Truth Church in Blackton, AR and Revelation Whole Truth Church in College Station, AR.
Over the years Pastor Rutledge worked as a field worker in the Evangelistic Department in the North Little Rock COGIC District.
Pastor Margaret Rutledge has been running a race for Jesus ever since she gave her life to Christ. For many years she traveled back and forth across the state of Arkansas, Mississippi, and the surrounding areas preaching the gospel and singing praises to the Lord. She and her husband and youngest child traveled singing and preaching to the masses. She is most known for singing "This Train."
She was proceeded in death by her four sisters; Angel, Cleo, Blanche, Jewel, one brother; Ontee Sims, children; Floydzell, Jr., Mary Joyce, Connie Sue, and her husband; Jesse Rutledge, Jr.
She leaves behind her remaining child; Calvin (Velerie) Key Sr., sister-in-law; Eddie Dunnick, Bernice Sims, thirteen grandchildren, a host of great grandchildren, cousins, nieces, and nephews.