Obituaries » KENT DARREL DILLARD

Print
November 26, 1962 - October 5, 2021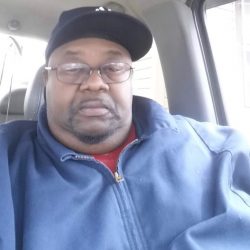 Burial Date: October 16, 2021
Visitation will be held Friday, October 15, 2021 at Jackson - Highley Funeral Home Chapel, West Helena, Arkansas from 4:00 p.m. to 7:00 p.m. Funeral Service will be held Saturday, October 16, 2021 at Greater Power House, West Helena AR at 11:00 a.m. Interment will follow immediately at Jackson Memorial Cemetery, Lexa Arkansas. We will follow CDC guidelines:  mask, hand sanitizer, and the social distance standard of 6ft apart. Mr. Dillard's service may be viewed live through ZOOM. Here are the ZOOM instructions: If you do not have the ZOOM app already, please download it prior to the service. Topic: Funeral Services for Mr. Kent Dillard - Greater Power House COGIC - West Helena, AR Time: Oct 16, 2021 11:00 AM Central Time (US and Canada) Join Zoom Meeting https://us06web.zoom.us/j/82645638510?pwd=Tm8zYjJuZzJDWHhDR1hoZFV5cTVTZz09 Meeting ID: 826 4563 8510 Passcode: 538896
Obituary Viewed 1072 times
Kent Darrel Dillard was born November 26, 1962 to the late Paul Dillard, Sr., and Gloria Kuykendall in Mellwood, Arkansas.
As a child, Kent's grandmother, Mrs. Rose Bell, made sure that he attended church. He confessed hope in Christ at an early age and was baptized at St. Peter Missionary Baptist Church, Helena Crossing. His favorite songs were, "I Can't Give Up Now," and "I'm Going Home."
On October 4, 2021 something led Kent's sister-in-law, Mrs. Bobbie Foreman to pray with him. After her prayer, she witnessed a glow about him. The next day, October 5, 2021 he departed this earthly life on his wife; Addie and daughter; Cassandra's birthday.
Kent received his formal education within the Helena – West Helena School District. He furthered his skills and knowledge base in the Job Corp, receiving a certificate in Automotive Technology. He was employed at McKnight Plywood as a Maintenance Supervisor for thirty-two years.
Kent had an incredibly quiet and humble spirit. He was fun to be around and very hospitable. He loved to fish, but his specialty was barbecuing.
Kent is preceded in death by his parents; Paul Dillard, Sr. and Gloria Kuykendall, father-in-law; Lee Henry Miller, one sister; Nicole Dillard, and one daughter; Tiffany Dillard.
Kent leaves to cherish his memories a loving and devoted wife of thirty-seven years; Addie Mae Miller Dillard of West Helena AR, two daughters; Kendra (Justin Womack) Dillard of Little Rock AR, Cassandra (Theo Reed) Dillard of North Little Rock AR, one son; Antonio Harrison of West Helena AR, mother-in-law; Violet Miller of West Helena AR, five brothers; Paul (Tammy) Dillard, Jr of Columbus OH, Jimmy (Gale) Haynes, Sr. of Helena AR, Terry McDowell of Conway AR, Patrick (Florence) McDowell of Blytheville AR, Michael (Joanna) McCain of Bunker Hill WV, four brothers-in-law; James Harris of Chicago IL, Rosevelt (Kim LaFrenz) Miller of Davenport IA, Henry (Wendy) Miller of Kankakee IL, Peter Miller of Saginaw MI, one sister; Jeanette Dillard Walton of Blytheville AR, two sisters-in-law; Bobbie (Lloyd) Foreman, Gwendolyn Miller both of West Helena AR, one uncle; JB Kuykendall of Little Rock AR, one aunt; Idelia Johnson of Little Rock AR, special aunt; Lois Suggs of West Helena AR, special friends; Don Brown, Mike Watts, Albert Haynes, Sr., Henry Robinson all of West Helena AR, Reginald Coleman of Memphis TN, grandchildren that he loved so much; Za'Nyiah, Kamari, Ahmad, Caveah, Cassilyn, Theo, Jr., Talaya all of North Little Rock AR and a host of nephews, nieces, cousins, and friends.