Obituaries » JUNIOR STEWART

Print
July 8, 1942 - September 7, 2021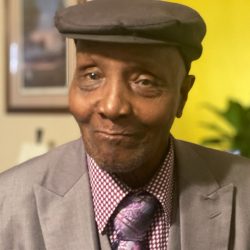 Burial Date: September 18, 2021
Visitation will be held Friday, September 17, 2021 at Jackson - Highley Funeral Home Chapel, West Helena, Arkansas from 4:00 p.m. to 7:00 p.m. Funeral Service will be held Saturday, September 18, 2021 at P.L.M. and D. Center at 2:00 p.m. Interment will follow immediately at Jackson Memorial Cemetery, Lexa Arkansas. We will follow CDC guidelines:  mask, hand sanitizer, and the social distance standard of 6ft apart. Mr. Stewart's service may be viewed live through ZOOM. Here are the ZOOM instructions: If you do not have the ZOOM app already, please download it prior to the service. Topic: Funeral Services for Mr. Junior Stewart - P.L.M.&D Center - Helena, Arkansas Time: Sep 18, 2021 02:00 PM Central Time (US and Canada) Join Zoom Meeting https://us06web.zoom.us/j/81968911439?pwd=Z2dhdDNWVGVPNU9zNnN0ZmQwK2xFUT09 Meeting ID: 819 6891 1439 Passcode: 655742
Obituary Viewed 902 times
Junior Stewart, 79 was born to Otha Mae McCleary & Lloyd Rankin, Jr. on July 08, 1942 in Greenville, Mississippi.  After sometime, the family moved to Elaine, Arkansas. At an early age, Junior confessed Christ as his Lord and Savior under the leadership of Reverend C.R Redden at Gumwood Baptist Church.  He continued his walk with Christ.
Junior lived a full life.  He really enjoying working and finding ways to provide for his family. He worked on the farm for over 45 years.  He retired and then went to work at Walmart.  His favorite pastime was fishing and hunting.  He was also a very good handy man.  He enjoyed fixing on things and building a work shed, benches, tables and anything he could do to past the time.  Junior also enjoyed working on cars, lawn mowers and etc.  He also enjoyed listening to old time gospel music and G.E Patterson as well as Lee Williams and the Spiritual Q C's on the radio.
In the late 1960's, he met the love of his life "Dusty" aka Lillie Smith of Mosby, Arkansas and they were married on April of 1968.  To this union, 8 children were born.
He's proceeded in death by his wife; Lillie Stewart (52 years), parents; Otha Mae McCleary & Lloyd Rankin, Jr., along with two brothers; Troy Lee Stewart, Peter Williams, one sister; Minnie Lee Young, six brothers-in-law; Robert Shears, Joe Smith, Jr., June Smith, Robert Smith, Larry aka "L" Smith, Willie Lee Smith,  along with his son; Junior Stewart, Jr. who died at birth, two great granddaughter; Majesty Luna Holliman (4/1/2018) and Brittany LaShay Hudson (March 2021)
On September 7, 2021, he departed this life at Highlands of Memphis Nursing Home in Memphis. He leaves to cherish his memory six daughters; Hattie (Nelson) Shepard of Memphis TN, Patricia Stewart of Memphis TN, Minister Stephanie A. Dillard of Jacksonville FL, Martha Stewart of Dewitt, AR, Mary (Deron) Jones of Jackson TN, Elizabeth Stewart of West Helena AR, one son; Timothy Stewart of West Helena AR, three brothers; Otis (June) West, Curtis Stewart both of Michigan, Ellis Paine of St. Louis MO, one sister; Essie Saffore of St. Louis MO, two brothers-in-law; John D. "JD" (Leeshell) Smith, Sr. , Jimmy Smith both of Elaine AR, three sisters-in-law; Evangelist Kathleen (Fletcher) Jones of Helena AR, Delores Shears, Beverly Smith both of Crumrod AR, along with eleven grandchildren, twelve great-grandchildren, and a host of nieces, nephews, cousins, as well as a friends.