Obituaries » CURTIS CALVIN FRIERSON

Print
June 27, 1963 - August 31, 2021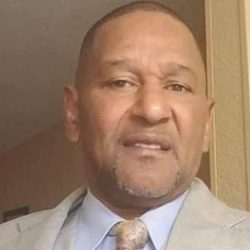 Burial Date: September 11, 2021
Visitation will be held Friday, September 10, 2021 at Jackson - Highley Funeral Home Chapel, West Helena, Arkansas from 4:00 p.m. to 6:00 p.m. Funeral Service will be held Saturday, September 11, 2021 at St. James Church of God, 67 West Louisiana Street, Marianna Arkansas at 1:00 p.m. Interment will follow immediately at Jackson Memorial Cemetery, Lexa Arkansas. We will follow CDC guidelines:  mask, hand sanitizer, and the social distance standard of 6ft apart. Mr. Frierson's service may be viewed live through ZOOM. Here are the ZOOM instructions: If you do not have the ZOOM app already, please download it prior to the service. Topic: Funeral Services for Mr. Curtis Frierson - St. James Church of God - Marianna, AR Time: Sep 11, 2021 01:00 PM Central Time (US and Canada) Join Zoom Meeting https://us06web.zoom.us/j/83743603433?pwd=bEc4WXE2dXdzalNjZ3A2TXRLMkI1UT09 Meeting ID: 837 4360 3433 Passcode: 913090
Obituary Viewed 2193 times
Curtis Calvin Frierson was born on June 27, 1963 in Poplar Grove, Arkansas, to his parents Edward Frierson and Alberts Barrow-Frierson. He departed this life at the age of 58 on Tuesday, August 31, 2021 at 4:21 a.m. at Washington Regional Medical Center in Fayetteville, AR.
Early in his journey, he accepted Jesus Christ as his Lord and Savior at an early age. He was an active member of St. James Baptist Church until God called him home.
As his journey continued, he met Andrea Larry – Frierson on December 27, 2016. They would later become united in Holy Matrimony on February 28, 2021.
Curtis received his early formal education in the West Helena School System, graduating from Central High School in 1982. He then continued his education at the Ouachita Job Corps Center in Royal, AR, graduating with a certificate in concrete finishing in 1984.
The number one thing Curtis liked to do was talk on the phone with family and friends. Keeping his vehicles spotless was a must for him, as well as barbecuing, cooking, and lending a helping hand no matter what it was. He also served many roles throughout his life including a supervisor (Packing Sanitation Services, Inc.), truck driver (Argos Concrete Company), dock leader (Arkansas Best Freight), and residential social service assistant (Job Corps). He later decided to step out on faith to pursue his true passion, which was lawn care and landscaping, by opening his own business, Frierson's Landscaping and Lawn Service.
He was a devoted family man to all of his family, including his wife, children, brothers, sisters, grandchildren, and the rest of his family.
Preceding him in death were his parents; Edward and Alberta Frierson, one sister; Delois "Moon" Frierson, one nephew; Malik Issah and one great niece; Mabyya Issah.
His legacy, memories, and life lessons will live on in the hearts of his wife; Andrea Larry – Frierson, his nine children; Kannia Jones of Memphis TN, Shaquila White of Memphis TN, Alberta Frierson of Little Rock AR, Simone Frierson of Helena AR, Quantessa (Noah) Green of Memphis TN, Jasmine Goldsberry of Nashville TN, Curtis Frierson, Jr., of Pine Bluff AR, Chasidy Frierson of Pine Bluff AR, Christian Frierson of Pine Bluff AR, seven grandchildren; Syria Fifer, Kasley Flowers, Simon Walker, Jamelah White, Patrick Martin, Payton Martin, Nia Green, twelve siblings; Jeanette (Raymond) Willie of Helena AR, Kaddrin Frierson of Helena AR, Melvin Frierson of Little Rock AR, Sedric (Ebendy) Frierson of Little Rock AR, Edward Jean (William) Calvin of Lexa AR, Tymli Frierson of Texas, Carl Frierson of Texas, David (Vickie) Frierson of Boiser City LA, Annette Shaw of St. Louis MO, Darryl McMullen of St. Louis MO, Edward (Shawn) Frierson, Jr. of McDonough GA, Michael (Regina) Jenning of Florida, one aunt; Earnestine Kinkaid of Chicago IL, four uncles; Alphonzo Frierson of Atlanta GA, Keith Frierson of Atlanta GA, Rosevelt (Bertine) Frierson of West Helena AR, Nathaniel Barrow, Jr. of West Helena AR, one great uncle; James Jones of West Helena AR. Curtis also leaves a host of nieces, nephews, cousins and friends.