Obituaries » EARNEST WOMACK, SR.

Print
July 25, 1939 - July 8, 2021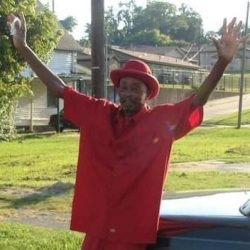 Burial Date: July 17, 2021
Visitation will be held Friday, July 16, 2021 at Jackson - Highley Funeral Home Chapel, West Helena, Arkansas from 5:00 p.m. to 7:00 p.m. Funeral Service will be held Saturday, July 17, 2021 at St. Paul Missionary Baptist Church, Helena Arkansas at 1:00 p.m. Interment will follow immediately at Jackson Memorial Cemetery, Lexa Arkansas. We will follow CDC guidelines:  mask, hand sanitizer, temperature checks, and the social distance standard of 6ft apart.
Obituary Viewed 1024 times
Earnest Womack, Sr. was born in Marvell, Arkansas July 25, 1939 to Jessie, Sr. and Caroline (Williams) Womack. He confessed his hope in Christ early in life at the St. Paul Missionary Baptist Church.
The Lord called him from his labor to his reward on Thursday, July 8, 2021 at his home in Helena-West Helena, Arkansas. Mr. Womack worked much of his life as a professional tree cutter.  He moved from Marvell, Arkansas to North Helena at the age of 14.  He became skilled at pouring concrete and worked with lifelong friends Frank Jordan, Sr. and Calvin Jordan, Sr.   Big Hoss loved gardening, hunting, fishing, barbequing, and most of all hanging with his beloved friends.  Thank God for his 81 years here with us.
He was preceded in death by his parents; Jessie, Sr. and Caroline Womack, his son; Johnny Lee Wilson, four brothers; Eugene, Jessie, Jr., Grenada, Edward Womack, three sisters; Elsie Jean Pitts, Frances Beale, and Annie Lawrence Womack.
Earnest, Sr. leaves to cherish his memory three sons; Reverend Earnest (Marvie) Womack, Jr., Ricky (Shonna) Womack, both of Helena-West Helena AR, Patrick Rodgers of Detroit, MI, five  daughters, Janice (Antonio) Roddy, Chrissy (Niland, Sr.) Parnell, Angela (Fred) Bullock all of Helena-West Helena, Arkansas, Kendra Brown, Angelica Brown both of Dallas TX, three beloved grandchildren that he adopted; Lakresha Strickland, Justin Womack, Breuna Womack all of Helena-West Helena AR, two special nieces; Patricia Taylor of Lawrenceville GA, Dorothy Williams of Flint MI, lifelong friend/brother; Theotris Mitchell, twenty-six grandchildren, fourteen great grandchildren, and a host of nieces, nephews, cousins and so many other friends unlisted here today.