Obituaries » ANDREW LEATA WIGGINS

Print
August 23, 1996 - May 19, 2021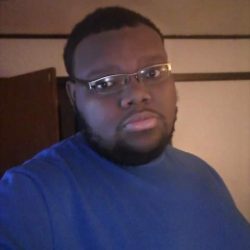 Burial Date: May 29, 2021
Visitation will be held Friday, May 28, 2021 at Jackson - Highley Funeral Home Chapel, West Helena Arkansas from 4:00 to 6:00 p.m. Funeral Service will held Saturday, May 29, 2021 at Kingdom Believers Church, 419 Alice Street, West Helena, Arkansas at 2:00 p.m. Interment will follow immediately at New Zion Cemetery, West Helena Arkansas. We will follow CDC guidelines:  mask, hand sanitizer, temperature checks, and the social distance standard of 6ft apart.
Obituary Viewed 1060 times
Andrew Leata Wiggins was born August 23, 1996 to Andrea Thomas and Andrew Lee Wiggins, Sr. in Helena, Arkansas.
Andrew accepted Christ as his personal Savoir and was baptized at a young age at Star of Bethlehem Baptist Church, Poplar Grove Arkansas under the leadership of Reverend Willie Young.
Andrew received his formal education within the Helena – West Helena School District. He was a part of the graduating class of 2015 from Central High School, West Helena, Arkansas. He furthered his education at Phillips County Community College, Helena, Arkansas graduating in 2018 with an Associates Degree in Computer Engineering. After graduation, he entered the workforce at Belleville Shoe South, Inc., Dewitt Arkansas.
Andrew is preceded in death by his father; Andrew Wiggins, Sr., grandmothers; Odessa Williams, Earnstine Randell, grandfather; Phillip Thomas, Sr., and an uncle; Charles Wiggins.
Andrew leaves to cherish his memories his mother; Andrea (Tyrone Smith, Sr.) Thomas of West Helena AR, brothers; Marcus (Moelisha) Nealy of Marianna AR, Tyrone (Lakesha Williams) Smith, Jr. of West Helena AR, a niece; Markissia Nealy of West Helena AR, a nephew; Clayton Smith of West Helena AR, grandfather; Eddie Lee Williams of Lexa AR, grandmother; Atline Conway of West Helena AR, uncles; Michael (Nakia Robinson) Winfield of Clarksville TN, Phillip Thomas, Jr. of West Helena AR, Andy (Dorothy) Adams of Tunica MS, Mickey (Helen) Wiggins of Clarksdale MS, Nathaniel Wiggins of Atlanta GA, Jimmie (Margaret) Williams of Horn Lake MS, Willie Williams, Eddie (Yvonne) Williams, Jr. both of Lawton OK, James Earl (Kim) Williams, Timmie Dewayne (Debra) Williams both of Oklahoma City OK, Alex (Levada) Williams of New Orleans LA, aunts; Katrina Wiggins, Lisa Henry, Aloise Hart, all of West Helena AR Laverne Williams of Orlando FL, Barbara (Garland) Betts of Tulsa OK, Patricia (Stephen) Wilkinson of Chevis Belgium, Kathyeron Hickson, Jacqueline Williams both of Lawton OK, Linda (Vincent) Bauldrick of Woodbridge VA, the family dog; CoCo, and a host of relative and friends.