Obituaries » DONALD ERIC HONEYCUTT

Print
April 24, 1965 - April 19, 2021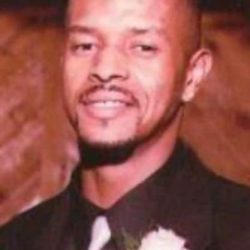 Burial Date: May 2, 2021
There will not be a public visitation. Funeral Service will held Sunday, May 2, 2021 at P.L.M. & D. District Center, Helena Crossing, Helena, Arkansas at 2:00 p.m. Interment will follow immediately at Jackson Memorial Cemetery, Lexa Arkansas. We will follow CDC guidelines:  mask, hand sanitizer, temperature checks, and the social distance standard of 6ft apart. Mr. Honeycutt's service may be viewed live through ZOOM. Here are the ZOOM instructions: Topic: Funeral Services for Mr. Donald Honeycutt - P.L.M.&D District Center - Helena, AR. Time: May 2, 2021 02:00 PM Central Time (US and Canada) Join Zoom Meeting https://zoom.us/j/97339106294?pwd=ZkZBRHoxZTgxSjl1OUJmVWZCV2tqUT09 Meeting ID: 973 3910 6294 Passcode: 419374
Obituary Viewed 1542 times
On this day, family and friends gather to celebrate the life of a man who sojourn on earth was fruitful and rewarding. Today, we celebrate the homegoing of our beloved Donald Eric Honeycutt a.k.a. "Big E."
Donald Eric Honeycutt began life in Chicago, Illinois on April 24, 1965. Preceding him in death, he was born to the late Lodester and Ida Honeycutt.
Donald was brought up in a Christian environment. He accepted Christ as his personal Savior. Donald received his formal education within the Chicago Public School System, graduating from Simeon High School.
Although Donald worked in many places during his life, he was a diligent worker for major companies such as Ford Motor Company and 3M.
Donald was a simple, but affectionate man who possessed great bounds of kindness and wisdom throughout his years.  Family was always his priority. His loyalty went beyond measure. He enjoyed watching his Minnesota Vikings play. Donald also possessed the gift of laughter, giving any one he knew gut busting moments of humor.
Donald had a special dedication to music. As a self–taught musician, he was a talented Bass Guitar Player. For a great part of his life, he played with his siblings and friends in a band called "Mo Fi Bo" as well as the Honeycutt's family music group. Donald loved music and enjoyed listening to his favorite group, Mint Condition. He also loved Level 42, Stevie Wonder, and other genres of music.
Donald had four beautiful children: Sean, Dominique, Tasmine, and Tayja.
Donald married Tasha D. Bobo on September 15, 2000 in Saint Paul, Minnesota.
On Monday, April 19, 2021 at 6:00 p.m. God closed the final chapter of Donald's life and he gently entered into eternity.
Donald leaves to celebrate his life a wife; Tasha Honeycutt, four children; Sean Honeycutt of Atlanta GA, Dominique Honeycutt of Encino CA, Tasmine Bobo of Douglasville GA, Tayja Honeycutt of Woodbury MN, two sisters; Anita Honeycutt of Chicago IL, Debra Honeycutt of Helena AR, two brothers; Darren (Bridgette) Honeycutt of Santa Monica CA, Kenneth (Ann Morant) Honeycutt, Sr. of Elaine AR , one grandson; Sean Jayden "Bub" Honeycutt of Atlanta GA, and a host of uncles, aunts, nephews, nieces, cousins, and friends.
Rest well "Big E." Until we meet again.