Obituaries » JIMMY SHEPARD, SR.

Print
November 10, 1931 - August 29, 2020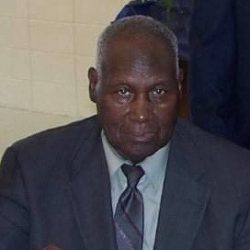 Burial Date: September 5, 2020
Visitation will be held Friday, September 4, 2020 at Jackson - Highley Funeral Home Chapel, West Helena Arkansas from 3:00 p.m. to 8:00 p.m. Funeral Services will be held Saturday, September 5, 2020 at Manasseh Christian Fellowship, West Helena Arkansas at 12:00 noon. Interment will follow immediately at Magnolia Cemetery, Helena Arkansas. Due to our Federal and State COVID-19 guidelines: during the Visitation - we will only allow individuals to view 10 at a time. Funeral Service - we will admit 50 individuals with the proper wristband, temperature checks, and mask.  At the Cemetery - we will abide by the social distance standard of 6ft apart. Mr. Shepard's service may be viewed live through ZOOM. Here's the information to access the link: Topic: Homegoing Celebration - Mr. Jimmy Shepard - Manasseh Christian Fellowship - West Helena, AR Time: Sep 5, 2020 12:00 PM Central Time (US and Canada) Join Zoom Meeting https://zoom.us/j/94130387198?pwd=eHdpN3MxVmpISzcxRHIzWVFjZzRLZz09 Meeting ID: 941 3038 7198 Passcode: 642995
Obituary Viewed 1661 times
Mr. Jimmy Shepard, Sr. was born on November 10, 1931 to the late John and Elizabeth Shepard in Wabash, Arkansas. He later moved to Helena, Arkansas as a child. He accepted Christ at a very early age and was a member of Word of Delivery Church in West Helena, Arkansas.
Mr. Shepard had a work history filled with hard work and dedication. He worked in construction at the Helena Chemical Plant, Oil Mill, Mississippi River Slab Field, and General Motor's Seat Plant in Marianna, Arkansas. He believed in hard work and passed his work ethics on to his children, nieces and nephews, and many young people in the community.
Mr. Shepard had a great entrepreneurial spirit! As a young man in his early twenties, he worked hard to save money to purchase a truck. He collaborated with many of the farmers in the area to use the truck in transporting workers to maintain crops. He also owned and operated the first ever Skating Rink for blacks in Helena. Additionally, he owned and operated a Cab Stand and a Service Station at Helena Crossing.
Mr. Shepard continued to work hard even in retirement. After retiring, he decided to invest in real estate by purchasing and renting properties in both Helena and West Helena. He was an avid sports fan. He loved watching the San Antonio Spurs and the Oakland Raiders.
Our beloved father, Jimmy Shepard, Sr. passed away with his family by his side on Saturday, August 29, 2020 at the age of 88. He was the last living of his eleven siblings.
He was preceded by his loving wife of 43 years, Rosie Lee, born on February 29, 1934 and passed on October 9, 1995. His son Dewayne Shepard (Central High Hall of Fame) was born on May 11, 1961 and passed on October 13, 2013.
Mr. Shepard is survived by his 18 children; Linda (Willie) Tate of Chicago IL, Jimmy (Carolyn) Shepard, Jr. of Mansfield TX, Donald Shepard of Plano TX, Carol (Enji, Sr.) Okoh of Memphis TN, Michael Shepard of Eden Prairie MN, Phyllis Shepard of Memphis TN, Sherry (Timothy) Conner of Olathe KS, Merina (Whaylon) Morton of McKinney TX, Morris Shepard of Dallas TX, Ronnie (Zenita) Shepard of Stuttgart AR, Ella (Michael) Thompson of New Orleans LA, Alfred (Jennifer) Shepard of Rockwall TX, Frances (Byron, deceased) Shepard-Bland of Eden Prairie MN, JoAnn Shepard of Olive Branch MS, Jeremiah Shepard, Josh Phillips, Mikel Phillips, Felisha Phillips all of Little Rock AR, 27 grandchildren, 28 great grandchildren and 9 great great grandchildren and a host of nieces and nephews.