Obituaries » REVEREND ROBERT CRAIN

Print
June 21, 1939 - August 27, 2020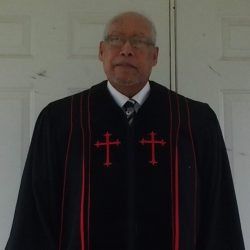 Burial Date: September 4, 2020
Visitation will be held Friday, September 4, 2020 at Zion Hill Missionary Baptist Church, 1108 Pecan Street, Helena Arkansas from 10:00 a.m. to 11:00 a.m. Funeral Services will promptly start at 11:00 a.m. at Zion Hill Missionary Baptist Church, 108 Pecan Street, Helena Arkansas. Interment will follow immediately at Jackson Memorial Cemetery, Lexa Arkansas. Due to our Federal and State COVID-19 guidelines: during the Visitation - we will only allow individuals to view 10 at a time. Funeral Service - we will admit 50 individuals with the proper wristband, temperature checks, and mask.  At the Cemetery - we will abide by the social distance standard of 6ft apart. Reverend Crain's service may be viewed live through ZOOM. Here's the information to access the link: Topic: Homegoing Celebration - Rev. Robert Crain - Zion Hill MBC Helena, AR Time: Sep 4, 2020 11:00 AM Central Time (US and Canada) Join Zoom Meeting https://zoom.us/j/97064147679?pwd=a1ZRTS9sYlQvem1BQ2ZQazJuYlpqQT09 Meeting ID: 970 6414 7679 Passcode: 546219
Obituary Viewed 992 times
Reverend Robert Crain, a beloved husband, father, and minister, went home to be with his Lord and Savior Thursday, August 27, 2020 at Helena Regional Medical Center, Helena Arkansas. After a long, brave fight with illness, Robert passed away to glory at the age of eighty-one surrounded by wife and friends.
Reverend Robert Crain was born to the late Judge and Rosie Crain, in Rison, Arkansas on June 21, 1939. He graduated from Rison High School in 1958, and married Francine Jackson on November 19, 1958 in New Edinburg, Arkansas. In 1960, he and his wife moved to Chicago, Illinois where he worked several welding jobs, and later became a carpenter. He and his wife moved back to Arkansas in May 1993, where he continued his carpentry career.
Reverend Robert Crain joined Zion Hill Missionary Baptist Church in Helena, Arkansas under the leadership of Reverend A.L. Woodson in 1993. He began his ministry at the age of sixty-five under the leadership of Reverend Leroy Harper (new pastor after the passing of Reverend Woodson) and became an ordained minister a few years later. In November 2000, he became the pastor of St. Luke Missionary Baptist Church in Helena, Arkansas; and in September of 2001, he became the pastor of Calvary Missionary Baptist Church at Barton, Arkansas. In 2009, Robert was appointed Vice-Moderator of Phillips and Desha Counties in Arkansas, served as Supervisor of P.L.M. & D. Usher Auxiliary from 2004 – 2009 and in 2009, President of the Ministerial Alliance of P.L.M. & D. District Association in Helena, Arkansas for over 10 years. Over the years, he faithfully taught and preached until God called him Home.
Reverend Crain is preceded in death by his daughter Janniece Jackson; brothers; Grady Crain, Willie Crain, sisters; Cora Brown, Geraldine Jackson, Bobbie Lee Ramey, his parents and granddaughter, Tiffany Gibbs.
Reverend Robert Crain is survived by his wife of 61 years; his daughter; Rosemary Weaver of Chicago Illinois, his grandchildren; Shoniece Weaver, Fred Jackson, Tamika Gibbs, John Gibbs, Tyisha Gibbs, his sister; Ruthie Lea and a host of great grandchildren, nephews, nieces cousins, church family and friends.