Obituaries » PEARL JACOBS BROOKS

Print
November 13, 1920 - August 2, 2020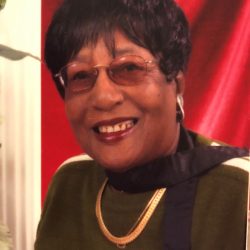 Burial Date: August 8, 2020
Visitation will be held Friday, August 7, 2020 at Jackson - Highley Funeral Home Chapel, West Helena Arkansas from 4:00 p.m. to 6:00 p.m. A private funeral ceremony will be held Saturday, August 8, 2020 at Jackson - Highley Funeral Home Chapel, West Helena Arkansas. Interment will follow immediately at Jackson Memorial Cemetery, Lexa Arkansas. Due to our Federal and State COVID-19 guidelines: during the Visitation - we will only allow individuals to view 10 at a time. Private Chapel Service - we will admit 10 individuals with the proper wristband, temperature checks, and mask.  At the Cemetery - we will abide by the social distance standard of 6ft apart.
Obituary Viewed 955 times
Pearl J. Brooks lived a life that most could only dream of living. She was always full of energy, smiles, and love. Although her love for life was immense, there is no doubt that she is enjoying her mansion in Heaven. Pearl was the 7th child born to the late Albert and Della Aryl Jacobs on November 13, 1920 in Helena, AR. She accepted Christ in her early years and was united with St Paul Missionary Baptist Church. She later joined Second Baptist Church, West Helena Arkansas where she faithfully served for over forty years.
She was the mother of an only child, Dorothy Austin Glass. The love and respect they had for each other was priceless. The mother/daughter relationship was evident, but they were also the best of friends. After marrying Will Brooks on May 21, 1955, she welcomed his son Frank C. Brooks into their small family. Her most important job was being attentive to her family. She was instrumental in the upbringing of her children, and grandchildren. Her love, wit and charm was spread amongst everyone she encountered. The wisdom that she shared with her family was immeasurable and greatly appreciated.
She is preceded in death by her parents; Albert, Sr. and Della Ary Jacobs, siblings; Emma, Roberta, Littie, Albert, Jr., Ben, George, Ethel and Bertha, stepson; F. C. Brooks, one grandson; Edward 'Peter' Glass.
Pearl will be remembered fondly by her sister; Nina Daniels of Kenosha, WI. Her precious daughter; Dorothy Glass of West Helena, AR, four grandchildren; Vernell Glass Kelly, Stephanie Glass Burns (Eric), Lester Glass and Jolanda Glass. Five great grandchildren; Marcus Green, Carissa Kelly, Azya Glass, Brooks Burns and Jacob Glass. She also leaves numerous nieces, nephews, and cousins to cherish her memory.