Obituaries » ELZIE EADY

Print
April 16, 1928 - June 30, 2020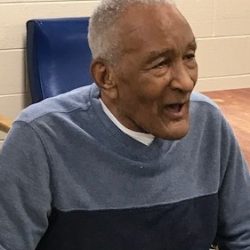 Burial Date: July 4, 2020
Visitation will be held Saturday, July 4, 2020 at Jackson - Highley Funeral Home Chapel, West Helena Arkansas from 10:00 a.m. to 12:00 noon. We will promptly proceed to Mt. Moriah Cemetery, Marvell, Arkansas for Mr. Eady's graveside service with an estimated start time of 12:45 p.m. Due to our Federal and State COVID-19 guidelines: Mask will be required during the Visitation - we will only allow individuals to view 10 at a time, at the Graveside Service - we will abide by the social distance standard of 6ft apart. Mr. Eady's service may be viewed live via ZOOM. Here's the information to access the link: Topic: Graveside Service for Mr. Elzie Eady - Mt. Moriah Cemetary - Marvell, AR Time: Jul 4, 2020 12:45 PM Central Time (US and Canada) Join Zoom Meeting https://zoom.us/j/93085981936?pwd=T1VqRGF3aUcwdDh2eFRFVWhOQzQ2UT09 Meeting ID: 930 8598 1936 Password: 852058
Obituary Viewed 1377 times
Elzie Eady, 92 was the eldest child of 4 children, born April 16, 1928 to Reverend Ed Eady, Jr. and Elizabeth (Smith) Eady. Father, Mother, 2 sisters-Eva Mae Williams, and Armelia Wilborn have preceded him in death. He departed this life on Tuesday, June 30, 2020. Elzie was a farmer and carpenter by trade and served the Marvell and Phillips County community with integrity and steadfastness.
Elzie accepted and developed a deep, abiding relationship with Jesus Christ at an early age. He was an avid member and Bible teacher at Old Mt. Everett Missionary Baptist Church, of Marvell, Arkansas. When the Old Mt. Everett Church closed, showing the same resolve and dedication to the teachings and precepts of the Bible, he moved his membership to the New Mt. Everett Missionary Baptist Church where he remained a faithful member and teacher until the end of his journey.
Elzie and Rosie Lee English (deceased) were joined in holy matrimony in the early 50's, in Phillips County, Arkansas and to this union six children were born, Carrie, Betty, Lewis, Ralph, Joel, and Levern. Elzie and Rosie also had a blended family consisting of Jesse (Jr.), Rosie, Milton, Patricia, Alma, and Catherine.
He leaves to cherish his memory one sister-Martha Jane Tolbert of Chicago, Illinois; and his children Carrie (Arnold) Knowles of San Antonio, Texas; Betty (Christopher) Taylor of Pine Bluff, Arkansas, Lewis (Lady) Eady of Ft. Smith, Arkansas; Ralph (Alfreda) Eady of Tulsa, Oklahoma; Joel (Teresa) Eady of Lawrenceville, Georgia; Levern (Veda) Eady of Madison, Alabama; Jesse (Ida) Fields of Bartlesville, Oklahoma; Rosie (Alfred) Wilson of Raleigh, North Carolina; Milton (Pam) Fields of Chicago, Illinois; Patricia Gilcrease of San Antonio, Texas; Alma Eady and Catherine Eady of Marvell, Arkansas; Virgil (Annette) Phillips of Richmond, Virginia; Clarence (Zina) Phillips of Chicago, Illinois; 25 plus grandchildren, 15 plus great grandchildren, and a host of nieces, nephews, cousins and family friends.