Obituaries » FLORA LEE HARRIS

Print
September 18, 1933 - June 3, 2020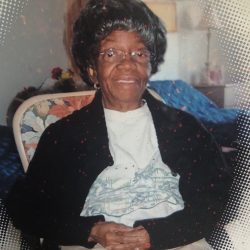 Burial Date: June 13, 2020
Visitation will be held Friday, June 12, 2020 at Jackson - Highley Funeral Home Chapel, West Helena Arkansas from 3:00 p.m. to 6:00 p.m. Graveside service will be held Saturday, June 13, 2020 at Jackson Memorial Cemetery, Lexa Arkansas at 11:00 a.m. Due to our Federal and State COVID-19 guidelines: during the Visitation - we will only allow individuals to view 10 at a time, at the Graveside Service - we will abide by the social distance standard of 6ft apart. Mrs. Harris's service may be viewed live via ZOOM. Here's the information to access the link: Topic: Graveside Service for Ms. Flora Harris Time: Jun 13, 2020 11:00 AM Central Time (US and Canada) Join Zoom Meeting https://zoom.us/j/92073797665?pwd=SnRJZjhGTEZVV2JmcGxUTy84UURtZz09 Meeting ID: 920 7379 7665 Password: 531385
Obituary Viewed 1147 times
Flora Lee Kirkwood-Harris was born to the late Robert Lee Kirkwood and Maggie Kennedy on September 18, 1933 in West Helena, AR.
She accepted Christ at an early age at Pleasant Joy Baptist Church.
Flora married Robert Lee Harris and moved to North Chicago, IL in 1976. She joined Greater Faith Church Baptist of Waukegan Il under the leadership of John Nabors. She later joined the Voices of Greater Faith choir while under the leadership of the late Rev. C.L. Fairchild and remained a faithful servant until her failing health. She was a long-time employee with Doughboy Pool and Helena Chemical Plant. Her passion was sewing. There wasn't an outfit that couldn't be observed and created within a matter of hours. Her greatest attributes were her agape love and generosity. She never met a stranger. Her door was open to anyone in need of a good meal, place to stay or ear to listen which she extended to her family by blood or water.
Flora was preceded in death by her husbands James Barnes, Edward Gilliom and Robert Harris; a daughter, Dorothy (Broderick) Craig; three sons, James Roosevelt Barnes, Jr, Leonard Harris and Dennis Harris; a granddaughter, LeAndria Craig; three brothers, Robert, Alfred (Velma) and Joe (Iona) Kirkwood and one sister, Emma (Harry) Minor.
She departed this life on June 3, 2020. She leaves to cherish her loving memory her children: Berneida Faye (Demetrious) Owens of Jacksonville, FL; Princella Gilliom of Waukegan, IL; Windell Gilliom of Jacksonville, FL; Marvin Earl Gilliom of Kenosha, WI; Nyoka Renee Duerson of Waukegan, IL; Mozella Willis, Naomi Harris and Sentoria (Greg) McBride of Waukegan, IL; Betty (Eddie) Hankins of TX; Carrie Harris of Waukegan, IL; Jefferson (Nancy) Harris of Chicago, IL; Ray (Shonda) Harris of Hawaii, five sisters, Maggie (Lavelle) Ayers, Deloistine William and Rosie Bea Kirkwood of West Helena, AR; Dorothy Wilson and Margaret Norvell of Chicago, IL; one brother, Johnny Norvell of North Carolina; thirty eight grandchildren, fifty five great grandchildren, fifteen great great grandchildren and a host of nieces and nephews.